Guide to accessible digital content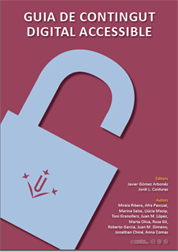 Type: Competitive
Research Line: Accessibility, UCD
Date: -
Client: UdLxTothom
Tags: editing tools, accesibility, guides, conversion to PDF
The Guide to accessible digital content (in Catalan and Spanish) presents detailed information to create digital documents accessible to people with disabilities. The guides cover common content editing tools (Microsoft Word, OpenOffice Writer or Microsoft PowerPoint), the conversion to PDF and the publication of accessible web content via the FCKEditor available on LMS such as Sakai, Moodle or OpenCMS.
The main audience of the guides is university professors who must meet accessibility standards in their e-learning environments. However, the guidelines may also be useful to anyone who has the obligation or the desire to have their digital documents and publications on the Internet made according to the principles of universal design.
These are the first version of the Guide to accessible digital content. The will is that these guides will enhance the contributions of users that use them to suit your needs. For any contribution you can send an email to: guiesaccessibles@griho.net
List of chapters of Guide to accessible digital content
Below are each of the chapters of the Guide to accessible digital content by a separate direct download.